Did you know?
Josefstadt - Iosefin - Jószefváros
Josefstadt is a district in the city of Vienna, Austria (8. Bezirk). There is also a district Iosefin in the west-romanian town Timişoara, Romania and a district Jószefváros in Budapest, Hungary (VIII kerület). The names date back to emperor Joseph II. The three districts maintain a partnership.
In March 2019 Asociaţia Culturală Salvaţi Patrimoniul Timişoarei (Association for the Salvage of Cultural Heritage Temesvar) organised the photo exposition Iosefin - Die Josefstadt von Temesvar in cooperation with Österreichisch-Rumänische Gesellschaft (Austrian Romanian Society).
300 years brewing tradition in Temesvar, RO
In 2018, the local brewery in Temesvar, Romania (Fabrica de bere) celebrated its 300 years anniversary. In 1718, 2 years after Prince Eugene of Savoy, general of the Imperial Army, had conquered back the fortress of Timisoara from Ottoman occupation the brewery was established in connection with the improvment of infrastructure for water supply (hot water boilers). Today, the brewery is part of an international brewing empire.
Pannonia & Dacia
Pannonia and Dacia were provinces in the Roman Empire which existed from the 1st to 5th century and 2nd to 3rd century, respectively. Pannonia covered the western part of modern Hungary (west of river Danube), Dacia corresponds to the region of Transylvania, Romania, reaching southwards to the river Danube. The names of both provinces survived until today and are popular in tourism and they are also frequently used in other domains such as geography or transportation. There are the 'Pannonian basin' and 'Pannonian climate'. In general the name ist frequently used in tourism both in Hungary and in the Austrian province "Burgenland". Dacia is the name of an auto brand, the night train D347 from Vienna to Bucharest is called "Dacia Express" and in Romania it is a popular oppinion that the Romanian nation has its ancient roots in Dacia. The landmark Hotel Dacia in the town of Satu Mare, northwest Romania, was previously named Pannónia when the region belonged to Hungary.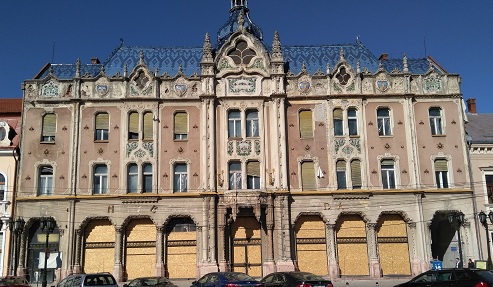 Hotel Dacia, Satu Mare in 3/2019, desperately waiting for renovation
In the News
30th Anniversary - Destruction of the Iron Curtain
On June 27, 1989 the so-called Iron Curtain which divided the Heart of Europa in two halves for several decades was opened by Hungarian and Austrian foreign ministers in a symbolic act (cutting of the fence) near the city of Sopron/Ödenburg. This historic event was commemorated by both foreign ministers of the two EU-memberstates and the Head of federal country Burgenland at the very same location which is marked today by a commemorative boundary stone.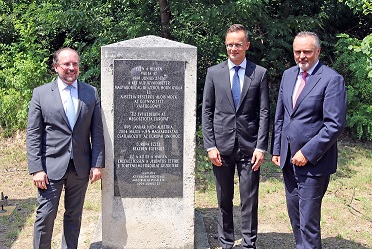 Foreign ministers Schallenberg and Szijjártó and Governor Doskozil meeting at the "Grenzstein"
Source: Landesmedienservice Burgenland
Treffen am Grenzstein zum Fall des Eisernen Vorhangs, www.burgenland.at, 27.6.2019 (german)
Danube-Black Sea Gateway Region Cooperation Platform
In June 2019 the Danube-Black Sea Gateway Region Cooperation Platform was founded at the project's closing conference in Krems, Austria.
DBS Gateway Region project aims at supporting the Danube-Black Sea region to become an attractive gateway region for maritime and inland waterway transport between Central Europe and the Black Sea, the Caspian region and the Far East.
Founding members are: Regions of Lower Austria and Vienna (A), cities Varna, Burgas (BG) and Galati (RO), Bulgaria Ports Infrastructure Company (BG), Port of Budapest (H), Port Authority Vukovar (CRO), Slovak Public Ports (SK), Working Group Donauländer, Eurovienna, University Novi Sad (SRB).
Donau-Schwarmeer-Region - Plattform für Kooperation in Krems gegründet, NÖN.at, 14.6.2019 (german)
Interreg Danube Transnational Programme - DBS Gateway Region
Lipizzan Horses - Common Cultural Heritage
In May 2019 the Slovenian and Austrian foreign ministers signed an agreement to submit the "Tradition of breeding Lipizzan horses" as an UNESCO intangible cultural heritage. This will be a multinational initiative involving 8 countries (stud farms in Austria, Bosnia-Herzegovina, Croatia, Hungary, Italy, Romania, Slovenia, Slovakia) from the Heart of Europa.
Breeding of Lipizzan horses dates back to 1580 when the stud farm was established in Lipizza, today Lipica, Slovenia. The white horses are world-famous for their performances of Equestrian Art at the Spanish Riding School, Vienna Today, only the best stallions from Piber, Austria present the exercises of the High School at the Spanish Riding School.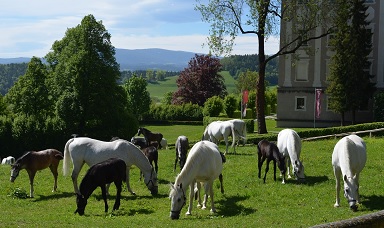 Young Lipizzaner foals with their mothers in Piber, Styria, Austria
© Spanische Hofreitschule – Lipizzanergestüt Piber GöR